Anti Slip Solutions was founded by the current directors. With over 70 years combined experience working in the Construction Industry the directors of the company pride themselves on providing prompt and detailed information to all clients to ensure customers' expectations are fully realised.
The directors long standing experience in the Construction Industry has enabled them to form strong relationships with expert technical advisors and chemists who they work with very closely to ensure their current and future products meet the highest standards.
The formulas for Safe-Grip, Safe Kleen and Crosscote were developed by the directors together with a team of chemists to produce a unique range of products. These products are sold around the world.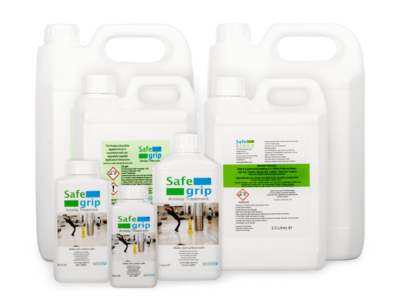 So whether you're a house holder with a slippery bathroom, a care home with large shower facilities, a hotel with slippery tiles around your swimming pool or a public building owner such as an office or leisure facility Safe Grip will help make your floor surface much safer to walk on.
Safe Kleen was initially developed to pre-clean floors prior to applying Safe Grip and as an after care maintenance cleaner but has proven so successful as a general purpose cleaner it can be used on almost any type of surface to clean and remove contamination.
Crosscote is our commercial and light industrial product for tradesmen, builders and construction workers ideal for use where there is a requirement to renovate and protect a variety of existing surfaces. Crosscote can be applied to both internal and external surfaces and copes with a very wide temperature range.
We pride ourselves on providing customer support and information so should you want to find out a little bit more about our products and their potential usage please get in touch.